Student Writer: Inuoluwadunsimi (Simi) Femi-Kayode, CU Denver Sophomore 04.21.2023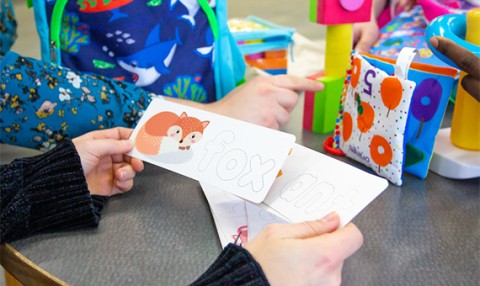 Meeting deadlines can be tough; taking care of children is also tough. Now imagine trying to do both. I bet many of you can! The Auraria Library is here to help.
Keeping Them Busy
During high school, it was always a struggle baby-sitting my little brother while trying to get assignments done. There was nothing around that could entertain him so I was tasked with doing that or the whole world would crumble down with his epic tantrums.
Luckily, he's a lot older and wiser (debatable) now so I don't need to take care of him anymore, but I could only imagine what taking care of him now, in college, would feel like.
Fun in the Library with Family Kits
If you're experiencing this right now and you have nothing to entertain your child with while you study away in the library, check out our very own Family Kits!
With a range of special toys we've curated to match most children's interests, we can assure you they will be kept entertained. Did I mention we have different sets for different age groups?
Finals are coming up and the Auraria Library wants to make sure you crush it this semester!
Check out our Family Kits at our Ask Us Desk and finish the spring semester strong without worrying about keeping your child entertained during library study.
Check Out a Family Kit
Family Kit: 0-4 Years Old Family Kit: 4-8 Years Old Family Kit: 8-12 Years Old