Auraria Library's Course Reserve Collection is located at the first floor Ask Us Desk!
What is a Course Reserve?
A course reserve is any course material placed in this collection by an instructor, usually the required textbook or suggested readings. Our collection has course materials from all three institutions on the Auraria Campus - the Community College of Denver, Metropolitan State University of Denver, and the University of Colorado Denver.
Materials in this collection are available for short-term checkout at the first floor Ask Us Desk. This allows for equitable access to all students enrolled in a course. This collection has a variety of materials including books, eBooks, DVD's, streaming video, and more. The first floor Ask Us Desk is also home to the Ask Us Collection, click the link for more information.
Electronic or physical materials, either from the library's collection or instructor/department items, can be placed on this collection.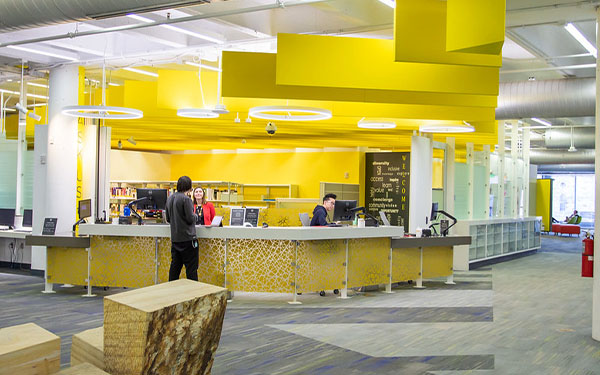 Students: Locating Course Reserves
Use the below catalog to search by title to see if your instructor has the course material you want to borrow. Not all classes have course reserves. If we have it in the collection, the record will tell you if the material is available and for how long it checks out. Most materials check out for 2 hours; some may check out for 4 hours, 1 day, or 3 days. Electronic materials will be accessible by a link in the item record.
You can also search for materials here by searching for your course name or instructor's last name.
Instructors: Placing Materials on Course Reserve
You will need to complete the below Course Reserve Request Form to put material(s) in this collection. You can fill this out if the Auraria Library already owns the material(s) or you need us to purchase a copy. If you own the material(s) you would like to place on Course Reserve, please bring the material(s) to the first floor Ask Us Desk in the library, we will provide you with a physical copy of this form to be filled out.
We ask that you submit any purchase requests as soon as possible, these requests can take several weeks to fulfill and made available. If you have any questions about this collection or need your materials removed, please contact Course Reserves staff.
Running short on time? Use our KIC Scanners (Located at North Computer Lab, South Computer Lab, and Mac Computer Lab) to scan a chapter of your required reading material – please be aware and follow the below rules on photocopies of materials.
Copyright Law compliance guidelines
The copyright law of the United States (Title 17, United States Code) governs the making of photocopies or other reproductions of copyrighted material. Under certain conditions specified in the law, libraries and archives are authorized to furnish a photocopy or other reproduction. One of these specified conditions is that the photocopy or reproduction is not to be "used for any purpose other than private study, scholarship, or research." If a user makes a request for, or later uses, a photocopy or reproduction for purposes in excess of "fair use," that user may be liable for copyright infringement.