Access and Public Services 10.05.2020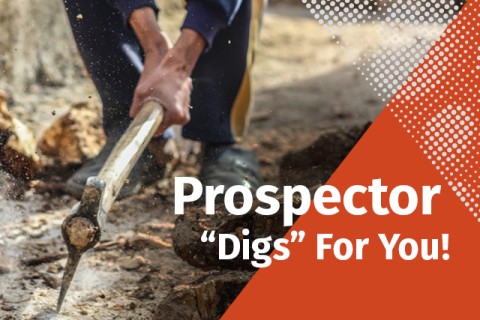 Did you know you have access to research materials from libraries all across Colorado? Sharing materials amongst libraries stopped for a time because of COVID-19 restrictions but our old friend "Prospector" is back up and running. That means more materials are now available to you! 
What's Prospector? 
If we don't have your requested materials in our library, our system searches for your scholarly "nuggets" all across the state and brings them home to you at Auraria Library. Just like the Coloradan prospectors of the past searching for gold, our search system for Colorado is called "Prospector" and it finds your (scholarly) gold. 
Prospector might not physically dig (our librarians do that!) but he finds some serious "gold"! Through Prospector you have access to 30 million books, journals, DVDs, CDs, videos, and other treasures for your research.
How do I use Prospector? 
Search for the item you need using Start My Research. 

If Auraria Library does not own the item, then you can search Prospector by clicking on the link in the top right-hand corner of the catalog. 
 

Notice "Colorado (Prospector)" on the top right. That's him!

 

Search for the item you need in Prospector. Once you find the item, click the "Request It" button. 

A pop-up box will appear asking for your affiliated institution, choose Auraria Library from the drop-down menu. 

Finally, enter your full name and student/staff/faculty ID number.  
Once you've requested your research materials through Prospector, they will arrive at Auraria Library and will need to be quarantined for a minimum of 72 hours. After that, you'll be notified by email that your items are ready to pick-up. After receiving this e-mail, please schedule a time to pick-up these items using our online calendar. 
Get help from a Prospector expert

 
Ask Us Chat
Text: 720-438-4446. We'll answer from 9 a.m. to 6 p.m. during the week and reply to after-hours questions within 24 business hours. (Your provider rates will apply.) 
Email: Use our email form or send to aurcirc@ucdenver.edu. We will respond within 24 hours, excluding weekends and holidays. 
Call: 303-315-7763
Need materials from libraries outside Colorado? 
Prospector loves Colorado and isn't fond of leaving the state but, no worries, that's where a second system comes in: Interlibrary Loan. Learn more about Interlibrary Loan (ILL).