Researcher Support Services 06.02.2021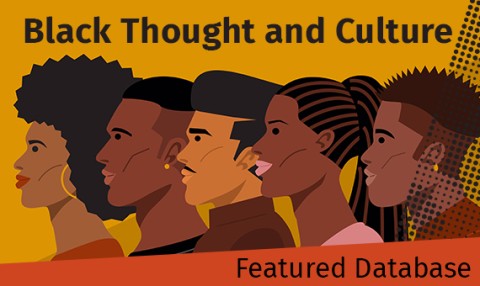 Featured Database: Black Thought and Culture
You can use databases to easily find organized collections of articles, journals, news, streaming videos, primary sources, data, and more!
Here's one of our favorites:
What's in it?
Black Thought and Culture is a collection of non-fiction writings by over 1,000 major American Black leaders covering 250 years of history, presenting an evolving view of what it means to be Black in America. The authors are from diverse backgrounds and professions, including teachers, artists, political figures, religious leaders, athletes, war veterans, entertainers, and others. This resource includes a significant amount of previously inaccessible material, including letters, speeches, essays, political leaflets, interviews, periodicals, oral histories, and trial transcripts.
Why should you use it?
Black Thought and Culture offers a wide range of views and perspectives of American Black leaders, in their own words, on the social, political, economic, and cultural issues that have shaped and affected the lives of African Americans.
Who should use it? 
This database would be useful for anyone interested in learning about Black thought and culture. It will be of particular interest to researchers in Africana Studies, Ethnic Studies, History, Sociology, Political Science, Social Work, Human Services, and Literature. Its collection of speeches, oral histories, letters, and other documents is a treasure trove for researchers looking for primary materials on the Black experience.
Why use a database?
When you use a specific database, rather than a search engine or discovery tool, you often can find more relevant sources. For example, subject databases include sources about that subject only, rather than a general search engine or discovery tool that includes information about everything. This way you don't have to wade through thousands of irrelevant results!
Want more databases?
Browse or search our Databases List!
If you have questions about this database or others, please see our Ask Us page.