Special Collections and Digital Initiatives 01.22.2020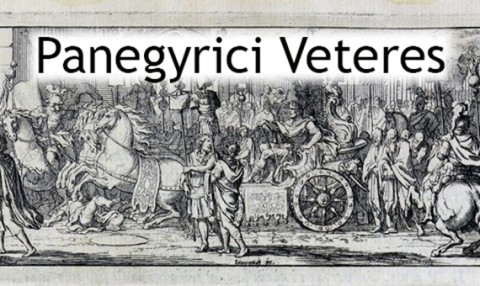 Brush up on your Latin, folks, because the latest unearthed tome from Special Collections is the Panegyrici Veteres (aka Panegyrici Latini). Aside from being one of our oldest books (1676), the Panegyrici is an excellent example of the many interesting and rare materials we keep safe here in Special Collections. So, what actually is the Panegyrici Veteres? Well, it's a collection of classical Roman panegyrics, which is a fancy Latin word for an oration, or a speech, typically positive in nature, and focused on a great or laudable person. These orations, composed by the likes of great orators like Pliny the Younger ("Plinii Secundi" in Latin), Eumenius (an early activist for school construction), and Pacatus (a prolific Gallic nice guy). Originally delivered and later composed between 100 and 389 CE, these paneygyrics praised the likes of Roman emperors, conquests of strange lands, and even simple birthdays. Originally collected by early printers and bookmakers in the late 15th century, no original manuscripts exist, and our 1676 copy was assembled by Parisian printer Simon Bernard. You'll notice on the front pastedown that the book's owner signed their name with a common "Ex Bibliotheca" note ("from the library of") in 1754, but sadly the full name was inked out at some point.
Feel free to make an appointment to see the real thing in person in the Special Collections Reading Room, or check out more neat stuff in our Digital Collections.