Auraria Library 04.09.2020
The safety and security of Auraria Library users continue to be our top priority as we monitor the impacts of COVID-19.
With this in mind, the Auraria Library's physical facilities will be unavailable after Tuesday, March 17, at 5 p.m.; however, many library services and resources are available remotely.
How to access online resources:
All students, faculty, and staff of the Auraria Campus can access resources such as eBooks, articles, and streaming videos online using their institutional login credentials. For help accessing library resources, please visit our Off-Campus Access & Help page. If you encounter a problem using online Library materials submit a Report a Problem form.
We also offer these helpful resources, among many others:
24/7 live chat on our Ask Us page.
Members of the campus community can schedule a one-on-one research consultation via phone or Zoom video conferencing software.
Library staff are available for research questions sent to library.eref@ucdenver.edu.
Requests for online articles and eBook chapters from other libraries via Interlibrary Loan will be fulfilled.
Prospector is unavailable until further notice.. 
Laptop borrowing:
The following laptop policies are in place:
CU Denver
CU Denver Students who need a laptop or hotspot should email studentsuccess@ucdenver.edu as soon as possible. 
MSU Denver
MSU Denver students are advised to contact their ITS helpdesk to request a laptop. Students can submit a request online or call (303) 352-7548 to put in a request.
If an MSU Denver student is unable to check out a laptop, it is recommended they contact their instructors for further guidance.
CCD
All laptops have been checked out. CCD students are asked to contact their instructors for additional guidance.
Wi-Fi hotspots:
All wi-fi hotspots have been checked out; however, many internet and cell phone providers are offering discounts and/or free internet access options in light of COVID-19. Consult your local provider for more information.
No penalties for borrowed materials:
Users are asked not to return items during this time. If you have checked out resources from the Auraria Library, there will be no penalties.
Innovation Garage and Digital Media Studio:
Our creative technology team is standing by via email to provide basic media support, limited to navigating software interfaces. The team strives to provide the best available assistance with questions about PowerPoint, iMovie, Adobe Photoshop, Lightroom Classic, Premiere Pro, InDesign, Illustrator, and After Effects software. 
Please direct questions to innovation.garage@ucdenver.edu. The creative technology team will respond in less than 48 hours.
How to stay updated:
If the status of the Auraria Library's physical facilities change, that information will be updated in this article and the "All Hours" section of the library homepage. You can also check our real-time status on the library homepage.
Please refer to your respective institution's COVID-19 webpage for more info about their schedule changes: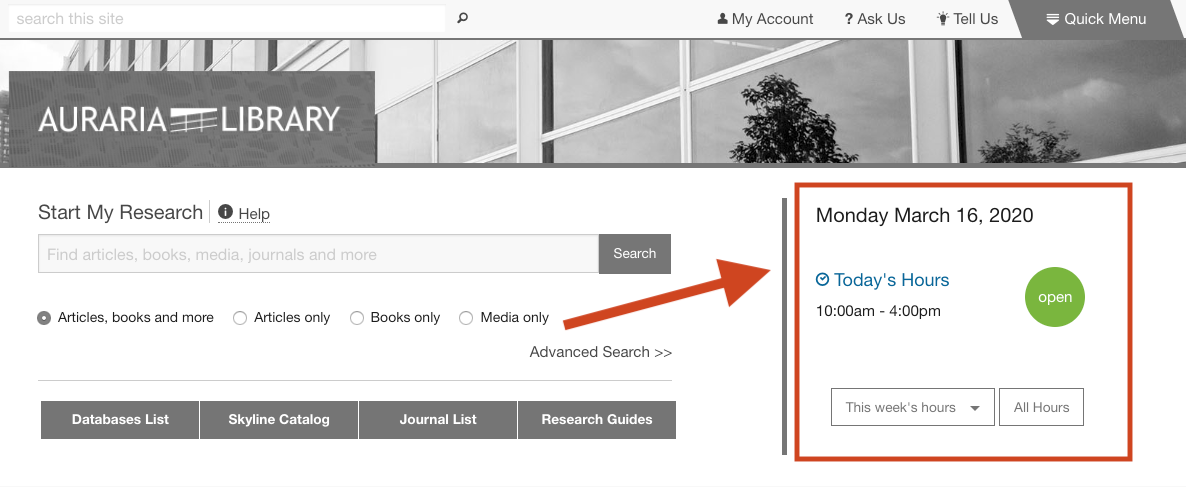 Check our real-time hours status on the library homepage.
Tips for staying safe and healthy:
Please be safe and diligent about your health. The Colorado Department of Public Health and the Environment has many effective ways to reduce the risk to yourself and the people you care about:
Frequently and thoroughly wash your hands with soap and water for at least 20 seconds.
Cover coughs and sneezes with a tissue or use your inner elbow or sleeve.
Avoid touching your eyes, nose, and mouth with unwashed hands.
Stay home if you're sick and practice social distancing.
The World Health Association also produced an easily shareable "Myth Busters" about COVID-19.