Rick Simons
Video Specialist Research, Learning, and User Services Division
Access and User Services Department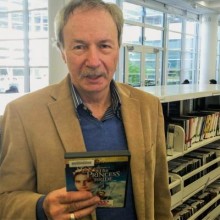 Role in the Library
ASK US Desk:  You will often find Rick at the Ask Us desk to help everybody with their checkout needs, reference questions, general information about the library and Auraria Campus.
Video Resources:  He is in charge of the care and distribution of the video collection.  He handles video booking for faculty and staff.  If you have any questions about DVD, VHS or streaming videos, feel free to get in touch.
Reserves:  Rick also processes reserve items when professors want to make specific items available for their students.
Staff Picks Curated by Me